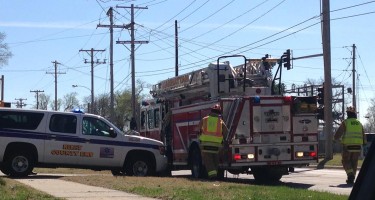 Two people received treatment for minor injuries following a car accident Monday afternoon.  Ieasha Wallace-Garvin, 24, was driving west in a 2007 Chevy Cavalier on Fort Riley Boulevard when she rear-ended a 2012 Toyota Prius being driven by Benjamin Shubert, 31, at the intersection of Fort Riley and South Manhattan Avenue. Wallace-Garvin and Shubert received treatment for minor injuries at the scene, but declined transport to Via Christi Hospital. Wallace-Garvin was given a citation for inattentive driving.
###
A Council Grove man was arrested yesterday evening for failure to appear. Riley County Police arrested Colby Gant, 27, shortly before 6:30 p.m. Gant's original offense is listed as driving under the influence. He was given no bond.
###
A Ft. Riley man was taken to the hospital following an accident early Tuesday morning. The Geary County Sheriff's Department reports at 0140 a.m. deputies responded to mile marker 163 on K-18 in reference to an injury accident.
Aaron Merrill of Ft. Riley, was traveling east bound in a 2011 Jeep Patriot when he fell asleep, left the roadway and struck a power pole. Merrill was transported to the Geary Community Hospital with non-life threatening injuries.