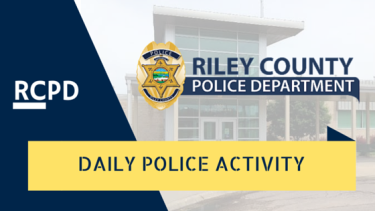 A Manhattan man faces a rape charge following his arrest earlier this week. According to Friday morning's Riley County Police activity report,   Andrew Rieschick, 20,  was taken into custody by the Pottawatomie County Sheriff's Office on an arrest warrant for the offense of rape Tuesday afternoon.
Rieschick's bond was set at $20,000. The arrest warrant stems from an incident that occurred on October 31st last year in Manhattan involving a 19-year-old female.
###
Riley County Police Department executed a search warrant early Friday morning at an apartment in the 500 block of Humboldt Street in Manhattan in reference to the possession and distribution of drugs. As a result of the search warrant executed at 12:30 a.m.  Stephen Briggs, 23, and Bridget Schraeder, 20, were arrested on multiple drug offenses.
Briggs was arrested for possession charges which included a controlled substance, marijuana, psilocybin mushrooms, and drug paraphernalia. Schraeder was arrested for possession of marijuana and drug paraphernalia. Briggs' bond was set at $5,500 while Shraeder's was set at $2,500.
###
A single vehicle injury accident was reported Thursday evening on Firethorne Drive near the intersection of Buckeye Circle. A 2015 Hyundai motorcycle being operated by Grahm Neve, 30, of Manhattan was traveling westbound on Firethorne Drive when the motorcycle tire struck the curb.
Neve subsequently lost control of the motorcycle and crashed. Neve sustained injuries as a result of the accident and was transported by EMS to Via Christi Hospital.