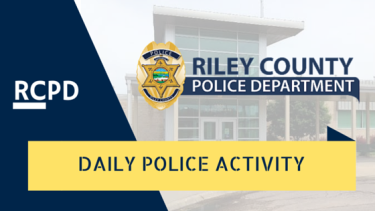 A Milford man faces a rape charge following his arrest Wednesday. Dylan Evans, 22, was taken into custody by Riley County Police at approximately 12:15 PM. RCPD indicates Evans was arrested while in the 200 block of Custer Avenue at Fort Riley but Bob Everdeen with Fort Riley Public Affairs indicates he was actually taken into custody outside of Fort Riley.
Evans was processed into the Riley County Jail on one count of the offense of rape and given a bond of $25,000.
This arrest stemmed from a warrant which is related to a rape investigation which began in June of 2015 and involved an 18-year-old female at the time of this crime who was known to Evans. Police were told the incident occurred outside of the city limits of Manhattan in Riley County. Due to the nature of this investigation no further information has been released.
###
Officers with the Riley County Police Department arrested a 56-year-old Manhattan man on two Geary County warrants. Claude Geiger was taken into custody Wednesday at 8:15 AM. Geiger was arrested on the two warrants for the offense of probation violation. He was given a bond of $5,000.
Geiger was arrested while in the 100 block of North 4th Street in Manhattan and identified as having warrants from the neighboring county.