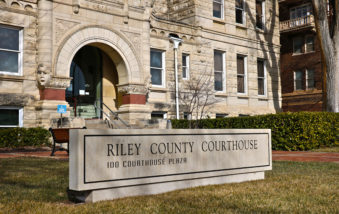 A 39-year-old Riley man has been bound over (Friday) for second degree murder, with an alternative count of involuntary manslaughter while DUI in connection with the death of his six year old daughter last October.
A variety of witnesses took the stand during Joshua Mall's preliminary hearing which took up most of the morning, including witnesses at the scene, law enforcement, and medical personnel. Testimony included  confimation of a blood alochol count of 0.13 and accounts of the smell of alcohol at the scene and on Mall's person following the accident–as well as descriptions of Mall's truck as fast-moving, aggressive, and cutting people off before side-swiping another vehicle and then striking a tree. References were also made to prior convictions including a vehicular homicide in Colorado in 2001.
Senior Deputy County Attorney Barry Disney mentioned the speed and intoxication but stressed "he killed another person and he should've known more than anyone else" of the danger he was putting his daughter Madilyn in. Defense attorney John Thurston admitted to a certain degree of negligence or recklessness, but questioned whether Mall knew there was imminent danger.
Judge William Malcom found the state had met its burden and that there was probable cause that Mall did commit murder in the second degree with the alternative count, indicating a disregard and indifference to human life, even his own. A March 21st arraignment has been set for Mall.
###
Via Christi Hospital's Dr. Eric Senn detailed the drawing of Mall's blood which later showed the blood alcohol content of 0.13. Later testimony came from Riley County Police Officer Jake Wilson, who asked for the blood draw after Mall's refusal at the hospital due to reasonable suspicion and the limited time Mall would be there before transferring to another facility. Wilson talked about bottles at the scene, the odor of alcohol, slurred speech, and bloodshot watery eyes of the defendant.
Other testimony came from Kansas Highway Patrol Trooper James Taylor, RCPD Officer Steve Gregoire, and RCPD Crime Scene Investigator Alan Riniker, who testified regarding the autopsy of Madilyn Mall.
Witnesses included Arnold Richmond, Holly Irvine, Brooklyn Otte, whose vehicle was struck by Mall's truck, and Michael Fry with Riley County Emergency Medical Services.