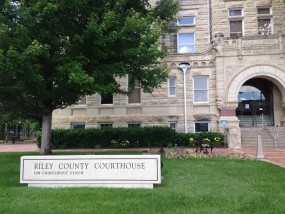 A Fort Riley man faces a little more than five years in prison following his sentencing this Monday morning in Riley County court for involuntary manslaughter. Tierre Wall was sentenced to 61 months by Judge David Stutzman for the charge. He was also sentenced to seven months for aggravated assault, to be served concurrently.
Wall's charge involves the March 2015  shooting death of Casey Lindley, 27, in the forehead during a confrontation at the intersection of Skyway Drive and Kansas Highway 114 near Ogden. Wall maintained he acted in self defense after Lindley, his fiance and his two friends got out of their vehicle and approached Wall at the intersection.
During the sentencing Wall apologized, saying "I pray that they forgive me….I made a choice. I'm here to face the responsibility of my actions." Judge Stutzman told Wall "The only way you can move forward is taking care of choices–making better ones later on. Unfortunately, this is a not a choice Mr. Lindley will have."
###
Also in Riley County District Court Monday, an August trial was set for a Riley man charged with second degree murder, with an alternative count of involuntary manslaughter while DUI in connection with the death of his six year old daughter last October. Joshua Mall's trial was set for August 23-26, with a motions hearing on May third. A pre-trial date of August 11th was also set.
As KMAN reported earlier this month, a variety of witnesses took the stand during Mall's preliminary hearing.