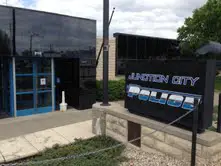 BOSTON (AP) An 80-year-old man who admitted running a sprawling multistate marijuana-dealing operation faces sentencing this week.
Marshall Dion pleaded guilty to several charges under a plea agreement with prosecutors.
A federal judge postponed Dion's sentencing scheduled for last month. She asked prosecutors and Dion's lawyers to submit written arguments on why the proposed sentence in the plea agreement is up to seven years in prison when federal sentencing guidelines call for 30 years.
A stop for speeding in 2013 in Junction City, Kansas, led authorities to Massachusetts and Arizona, where they found about $15 million in cash, nearly 400 pounds of marijuana and ledgers detailing drug deals going back to 1992.
A sentencing hearing is scheduled for Thursday in U.S. District Court.