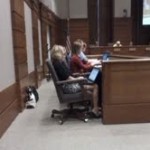 The Kansas Legislature's property tax lid has local governments wondering how to adjust for a potential funding squeeze. The Riley County Law Enforcement Agency Law Board met Thursday to discuss how the lid would impact the Riley County Police Department.
President of the local Fraternal Order of Police, Detective, Brian Johnson, says his main concern is that the Tax Lid, passed by the State Legislature last year, would negatively affect pay for RCPD officers.President of the Fraternal Order of Police, Detective, Brian Johnson, says RCPD has done a good job of recruiting quality officers, but he's concerned the State's property tax lid will negatively affect retention.
Johnson warns against cutting the RCPD budget should funds come up short. He adds the Law board has no other choice if wants to maintain a high level of safety and satisfaction within the community.
Board member Karen McCulloh says after all other city services are funded, there isn't much left over. McCulloh says the state has shoved the City and County "between a rock and hard place" and she adds local governments will have very few options should the tax lid remain as is.
Board member Wynn Butler says its all about priorities to him. Instead of automatically approving cost of living and staff increases, Butler wants to examine how to improve efficiency with current levels of funding.