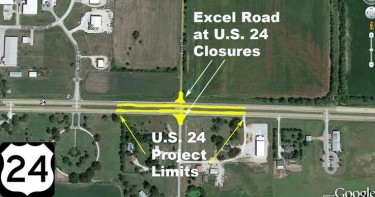 On Monday, March 28, weather permitting, an intersection improvement project will begin at the U.S. 24 and Excel Road junction just east of Manhattan in Pottawatomie County. Project work includes improvements on Excel Road and the addition of turning lanes on U.S. 24 to Excel Road (see intersection improvement plan above). Work will take place during daylight hours, Monday through Friday, with some occasional Saturday work.
Beginning Monday, March 28, all access from Excel Road to U.S. 24 and vice versa will be closed through late Fall 2016. Also, eastbound and westbound U.S. 24 left lanes on either side of the Excel Road intersection will be closed for construction of the turning lanes through mid-July 2016.
There will be a 45 mph posted speed limit and a 12-foot lane width restriction on U.S. 24. Excel Road traffic must use alternate routes to access U.S. 24 throughout the project duration.