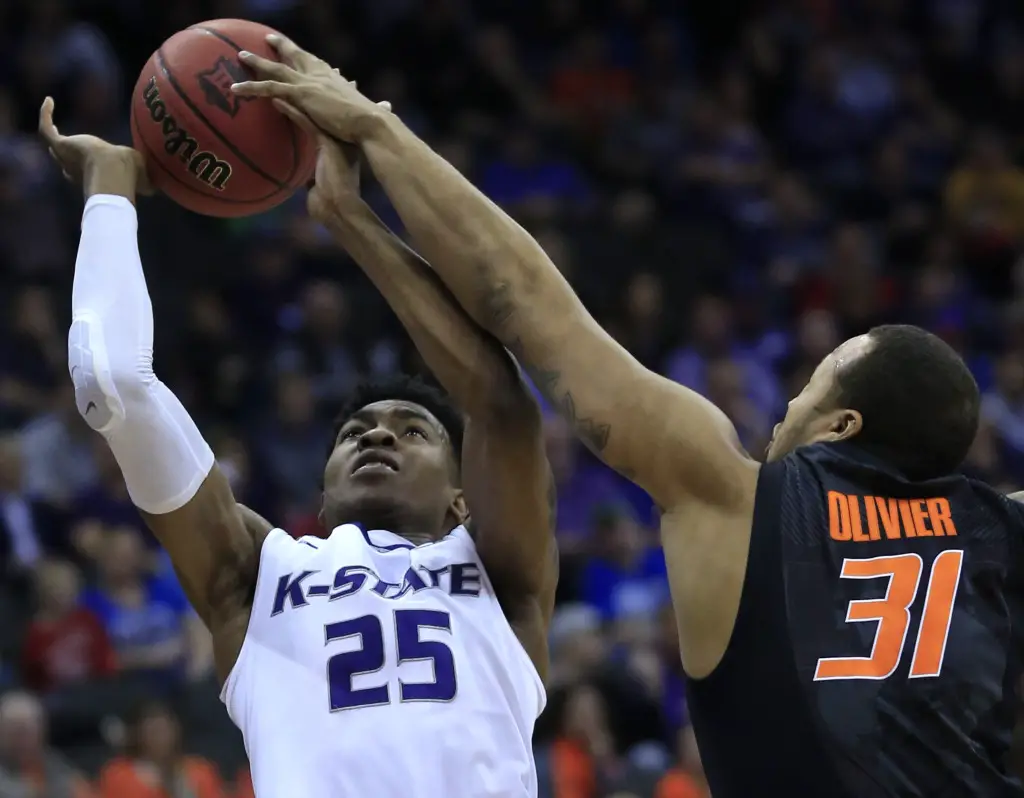 KANSAS CITY, Mo. — Kansas State was not happy with its showing at the Big 12 Tournament last season, and for good reason. The Wildcats were quickly dismissed by TCU to open the competition, bringing an agonizing season to an end.
They were determined to not let history repeat itself Wednesday night.
Paced by Dean Wade's career-high 20 points, K-State jumped out to a big lead, then held off Oklahoma State 75-71 at Sprint Center to advance to Thursday's Big 12 quarterfinals.
"I thought we came out with great passion in the first half," K-State coach Bruce Weber said. "Our guys have grinded all year and kept getting back up. It's a good feeling to get a win here and be in a winning locker room."
The Wildcats (17-15) split the regular-season series with OSU, winning by 16 at home and losing in overtime in Stillwater. In the rubber match, K-State proved to be the better team.
The tone of the game was set early for K-State on the defensive end of the floor. OSU made just three of its first 13 shots, including a stretch of close to six minutes without a field goal. The Wildcats went on a 10-0 run over that period.
Once K-State's lead reached double digits, it appeared the Wildcats would run away with a dominant victory. But poor free throw shooting and defensive breakdowns allowed OSU to climb within four points down the stretch.
"We got a little lax with our assignments, and (OSU coach) Travis (Ford) deserves a lot of credit for the way he's handled his team," Weber said.
Wade and Justin Edwards combined for 22 first-half points, during which the lead ballooned to as much as 18.
The Cowboys (12-20) were plagued by turnovers and poor outside shooting early on, and K-State took advantage, shooting 48 percent in the opening half.
OSU made five of its first seven three-pointers in the second half, getting the Cowboys within striking distance. K-State always had an answer, however, in part because of its 13 offensive rebounds.
Wade hit all three of his three-point attempts and connected on a pair of free throws in the final minute to ice the game. Jeffrey Carroll and Joe Burton led the Cowboys with 13 points apiece.
K-State will face top-seeded and league champion Kansas in the Thursday's quarterfinal. Tipoff is scheduled for 1:30 p.m.
Edwards said facing KU for a third time this season will be a massive challenge.
"They're the No. 1 team in the country and they're going to play at a high level," he said. "We just have to get some rest and try to prepare well."