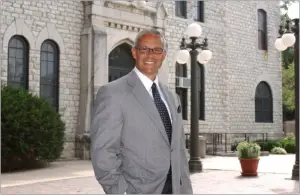 K-State's Executive Director of Military and Veterans Affairs, Arthur DeGroat has issued comment following the death of a veteran student.
As previously reported by KMAN, Jacob Horton was found dead in a parking lot on the university's main campus Saturday, after sustaining a self-inflicted gunshot wound.
DeGroat issued the following statement to KMAN:
"This is a most tragic event for our K-State family–especially our student-veteran community.
Jake, like all veterans on our campus are very special people who have voluntarily served their country during war and chose Kansas State University to further their education and begin new lives.
Too many of these veterans go through this transition with lingering and devastating moral injuries faced in war. Many face them alone with overwhelming effects.
The K-State student-veterans community will honor Jake's legacy and sacrifices with a campus vigil at an appropriate time within the grieving process.
Moreover, the K-State Student Veterans Organization (SVO) wishes to honor Jake's sacrifice by increase awareness of services available to our students-veterans and promoting the value of more veterans joining the student veteran peer network offered by membership in the SVO.
The K-State Family will miss this fallen comrade."
Horton's death is the second involving a veteran in the last week.
Sgt. Laird Camron Landis, an infantryman with Company C, 2nd Battalion, 34th
Armor Regiment, 1st Armored Brigade Combat Team, 1st Inf. Div., was found
dead in his home April 1.