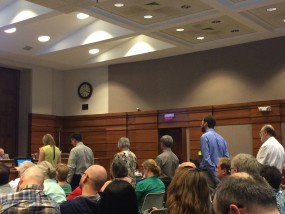 "That's how important it is, that's how important this issue is."
Mayor Pro Tem, Usha Reddi spoke following an out pour of support from the community during a Tuesday night City Commission meeting that focused on anti-discrimination protections for LGBT residents, living in Manhattan.
The topic reached the city commission chambers after months of request from members of the LGBT community, along with their allies.
City commissioners engaged in talks of adding sexual orientation and gender identity to a list of protected classes, resulting in nearly four hours worth of public comment – mostly in the form of personal stories and revelations of struggles faced by those who identify as LGBT.
Chapter 10 of Manhattan's city code examines civil rights, with the goal of establishing a policy and process that prevents discrimination and provides equal opportunity in housing, public accommodations, and employment based race, sex, familial status, military status, disability, religion, age, color, national origin or ancestry.
Those protections have caused concerns because of two notable exemptions – sexual orientation and gender identity.
The discussion item allowed commissioners to share their views on the matter, most of which were positive.
Of the issue, commissioner Linda Morse simply said "we need something more."
The city hasn't received a discrimination complaint in three to five years, but commissioners assured those fighting for the protection that they hear their concerns and will continue to research the matter before making a decision.