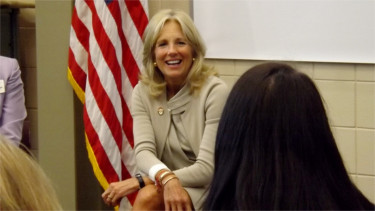 FORT RILEY — It wasn't just another run-of-the-mill Wednesday at Fort Riley Middle School. Of course, that will happen when the Second Lady of the United States drops by.
Dr. Jill Biden, wife of U.S. Vice President Joe Biden, was in Fort Riley Tuesday and made a stop at the middle school Wednesday morning to talk with students, teachers, parents and local leaders about education in the military — especially for children of military members.
Biden's motorcade arrived in front of the school just before 10 a.m. and students gathered inside the school's lobby to greet her with loud applause and cheers.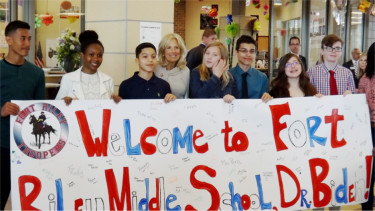 The Second Lady seemed to enjoy the welcome and hugged students holding a handmade "Welcome to Fort Riley Middle School, Dr. Biden!" sign written in red, white and blue letters. After that, she went up the stairs to greet students gathered there.
Following the welcome, Biden toured classrooms and then met with students, teachers and administrators to discuss the challenges military children face.
"It's exciting," said Makaylah Lemons, a Fort Riley Middle School 8th grader who was in one of the two circle discussions with Biden. "It was cool, because a lot of people talking to us before she got here were nervous and I was nervous, too. But once I met her, it was kind of relaxing to know that she was chill."
Biden's visit coincides with the Month of the Military Child and as part of her Joining Forces initiative. Biden, a lifelong educator and military mom, has participated in several events in support of military children's education.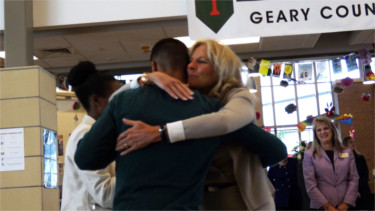 Biden also highlighted the educational partnership between Fort Riley and Kansas State University as part of Operation Educate the Educators—an effort she launched through her Joining Forces initiative to train teachers to recognize the unique needs of military-connected students in their classrooms.
"It was a high," K-State Dean of Education Debbie Mercer said. "To watch the children's faces as Dr. Biden walked in through the door, they understood the importance of this visit and were so proud to be a part of it.
"And it's affirming for the work we're doing at the College of Education at K-State… it's been a wonderful experience."
While Biden was not directly available to media, she did take a few brief moments to individually speak with local leaders present, which included Manhattan Mayor Karen McCulloh and Riley County Commissioner Robert Boyd.
Both we're grateful for the opportunity.
"It was nice to talk to her," Boyd, a Vietnam veteran, said. "She and my wife have a lot in common. They're both educators and both military moms.
"I've met her husband a couple of times, and he's engaging. They have a life of service to our nation. And that's kinda cool — I don't care what they're political philosophy is. They are trying to serve a need and trying to make America a better place."
McCulloh shared Boyd's sentiment.
"I was certainly impressed," she said. "She has a great interest and support of Army wives, of Army spouses and education for the kids."
Much of the discussion Biden had with parents, students and administrators focused on the struggles military children face in new schools, which is a frequent adventure considering how often their parents are moved from place to place. And for Fort Riley Middle School students, another transition is on the way when they transfer from a school on post to Junction City High School in town with more conventional public school students.
Biden shared one story she heard from a general while in Iraq, who told her an instance when a teacher was unaware of a military-connected child in the classroom and had burst into tears during a Christmas pageant.
"The teacher ran over and said, 'Why are you crying? Why are you crying?' Biden said. "And she said, 'That's the song they played at my daddy's funeral.'
"And that teacher had no idea that child was a military-connected child… and for that teacher not to know that is a little surprising."
Biden said that's what propelled her idea for Operation Educate the Educators.
"I thought we've got to do better," she said. "I went back to D.C. and came up with this program, because I thought it was important that teachers know who those military children are in their classrooms."
What struck one parent– Makaylah's dad, Adrian — about Biden's visit was not how much she talked, but how much see listened.
"She was listening and you could tell she was taking in a lot of information we were giving her," he said. "That's one of the things I've learned about her and one of the things I've liked about her is that she is a listener. She's trying to make a difference."