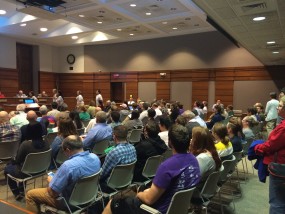 19-year-old Shawn Crowder was sitting at home watching TV, when he came across a televised meeting of the Manhattan City Commission.
The topic? Protections against the discrimination of LGBT individuals.
Crowder left his home at 10 p.m., determined to share his plea for help with local leaders.
With several states around the nation considering bills said to encourage discrimination, the young gay man who hopes to one day become a politician  simply told commissioners, "Please let us have our rights."
His sentiment followed a tale of teenage discrimination that forced him to drop out of high school.
Like the teen's, similar cries of LGBT discrimination are growing.
In fact the same day Crowder made his way to Manhattan's City Hall; Mississippi Gov. Phil Bryant signed House Bill 1523 into law.
The law — better known as "Protecting Freedom of Conscience from Government Discrimination Act" — aims to protect religious freedoms and allows for things like denial of service or employment and the decision to sell or rent housing based on religious beliefs or moral convictions of property and business owners.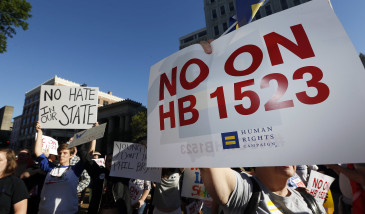 All of which are issues that LGBT residents believe hold weight in Manhattan.
As the city commission considered adding gender identity and sexual orientation to a list of protected classes, nearly four hours' worth of public commentary helped guide them.
Words from area religious leaders, gay, lesbian, and transgender community members filled city hall, serving as a guiding light and presenting both sides of an impassioned civil rights argument.
One pastor argued that a protection for LGBT individuals opens the door for polygamy.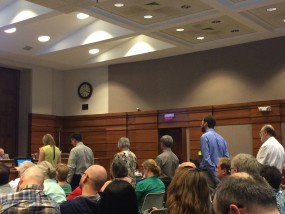 A father and his transgender son came together to share their story before a standing room only crowd at the routinely empty, weekly meeting.
A war on discrimination is being waged across the nation and the citizens of Manhattan along with local leaders appear ready for battle.
Of the evening's events, Manhattan's Mayor Pro Tem, Usha Reddi said, "Even though this was just a discussion to see how far people wanted us to go and their thoughts on it, the people that otherwise would not have spoken, have spoken tonight in a public arena on TV with media."
"That's how important this issue is," the future mayor continued. "So I think that speaks volumes to us as commissioners and to the city of Manhattan."
Commissioners added the protections in February 2011 and established a human rights commission.
A change of faces in April of the same year saw a more conservative commission repeal the ordinance.
As a line of community members eager to speak before the commission died down, commissioner Linda Morse told the room "we need something more," with sympathy in her voice.
After being presented with several options during the meeting, commissioners are considering how to best move forward.
One thing was clear as the meeting was dismissed: a tone of change echoes in Manhattan.