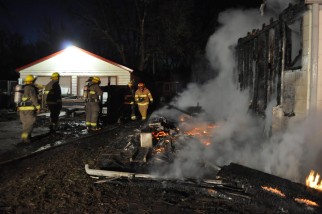 Firefighters returned to the scene of a house fire Friday morning that had already sustained $10,000 worth of damage due to a possible electrical mishap.
Riley County Fire Department crews from the Keats station returned to 3090 Keats Ave. to find the home fully engulfed. Crews extinguished the fire and cleared the scene around 10 a.m. after being called around 5:18 a.m.
Riley County Emergency Management Director Pat Collins told KMAN some kind of spark may had got into the cellulose insulation Thursday during that part of the fire, though the blaze is still under investigation.
The estimated damage is around $80,000. The home was unoccupied and no one was injured.