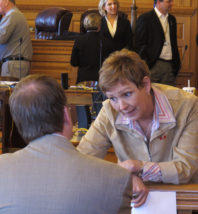 A local representative has announced she will be running for an eighth consecutive term in the Kansas House of Representatives.
Sydney Carlin, Democrat, of Manhattan, made the announcement on KMAN's "In Focus" on Friday morning. Carlin made remarks about the drawn out nature of the current Presidential campaign, but she will soon be gearing up for a campaign of her own at the conclusion of the current legislative session.
Carlin says she has spent much of the legislative break listening to the concerns impacting constituents within the 66th district she represents. Education, taxation, and partisan politics are all problems Carlin says have Kansans dismayed at the current administration. If she were to be elected to an eighth term, Carlin already has a plan laid out for what she wishes to accomplish for her constituents.
"Continue to build a coalition of moderate representatives that care about this state and its' future," Carlin said. "There are a group of us that get things done occasionally. We've stopped some really bad legislation… We do have a coalition that's strong enough to protect the public from some things."
Carlin says she plans to expand that coalition of moderate representatives. Carlin can begin her campaign as soon as the legislature adjourns for the summer, but Carlin says that may be delayed due to an education bill which she expects the Supreme Court to strike down. Carlin planned to hand in her campaign petition to the Secretary of State as early as Friday afternoon.