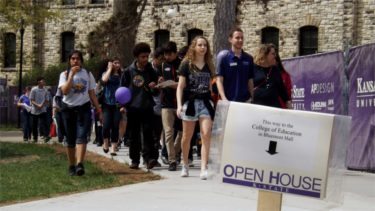 The campus of K-State was buzzing Saturday afternoon.
The university held its annual Open House day where over 475-plus student organizations and 250-plus majors made themselves available to the public and presumptive students.
Click any photo to open gallery
There was a bouncy house, a purple-clad cow, entertainment, lots of popcorn, technology displays, more popcorn and all the information one could want about KSU.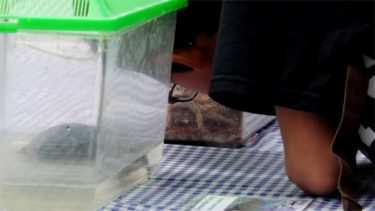 Bailey Brown, a freshman at K-State, remembered being on campus as a prospective student and being led on tours of the university's various halls and key places.
Saturday, she was the tour guide.
"Yes, yes I was," Brown laughed. "It's fantastic. The tour guides I had as I was looking into K-State were some of the reasons why I chose it and some of the reasons I felt that 'family feel' that everyone talks about. I wanted to be able to portray that to prospective students myself."
KSU admission representative Taylor McClellan said the campus saw a diverse array of visitors.
"We've had an awesome crowd," she said. "We started at about 8 o'clock this morning and we've had lots of different families and age-ranges come out — anything from young kindergarten-age kids to alumni."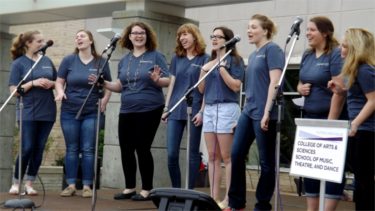 McCellan said the Open House is always full of a wide-range of activities and displays — though she has a favorite.
"My favorite is the purple cow out at the College of Veterinary Medicine," she said.
Overall, McCellan said the day is about connections.
"It's all about how K-State is accessible to the public and how we really want to connect to the community," she said. "We've been ranked by the Princeton Review as No. 7 for town-gown relationships, and I think this is a great display of how the community comes out to support the university and how the university supports the community as well."