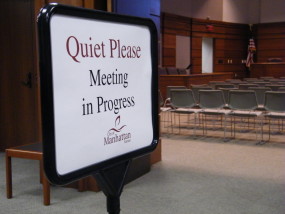 If you live in Manhattan you won't just be electing a president come November 8.
City Commissioners accepted the ballot language for a tax increase question Tuesday night, as presented by public works director Robert Ott.
The question asks for approval of the imposition of a new retailer's sales tax in the amount of 0.20% to fund street maintenance and the city's safe routes to school program.
According to documents published by city administration, the question limits the use of the funds generated by the sales tax, as follows: the costs of repairing, rebuilding, rehabilitating, upgrading and improving existing streets in the City of Manhattan; and the costs to upgrade existing pedestrian facilities, as well as the construction of new pedestrian facilities, along routes used by children walking to and from schools.
If approved by voters, the tax will commence on April 1, 2017, and expire in 2027.
Other items on the city commission's agenda during the Tuesday meeting included the proclamation of April 29 as Arbor Day and the re-consideration of the first reading of an ordinance involving Tri-Vision Billboard signs.