TOPEKA — A new fiscal forecast for Kansas has slashed the state's projected tax collections by $348 million for the current and next fiscal years.
The new forecast drafted Wednesday would leave the state with budget shortfalls totaling more than $290 million.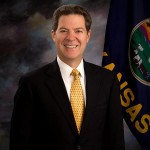 The figures were included in documents prepared by legislative researchers ahead of a Wednesday evening Statehouse news conference and obtained by The Associated Press from another source.
The forecasters reduced the projection for total tax collections for the current fiscal year by $177 million, or 2.9 percent, to about $5.86 billion.
They also cut the estimate for the next fiscal year that begins in July by nearly $171 million, or 2.7 percent, to $6.04 billion.
Gov. Sam Brownback's budget director planned to outline budget-balancing proposals during the news conference.
3 p.m.
Kansas legislators are bracing for bad fiscal news and proposals from Republican Gov. Sam Brownback for keeping the state's next budget balanced.
State officials, legislative researchers and university economists met Wednesday to draft revised projections for tax collections through June 2017.
The new forecast was being released Wednesday evening during a Statehouse news conference and was expected to be more pessimistic than the current one issued in November. Tax collections have fallen short of expectations 11 of the past 12 months.
Budget Director Shawn Sullivan was expected to outline budget measures during the same news conference.
The Kansas House and Senate budget committees were scheduled to meet Thursday to review the governor's proposals. The full Legislature returns next week from its annual spring break to tackle budget issues.
12:45 a.m.
Kansas officials will make a new fiscal forecast for state government Wednesday.
Kansas has struggled to balance its budget since the GOP-dominated Legislature slashed personal income taxes in 2012 and 2013 at Brownback's urging to stimulate the economy. The promised job growth hasn't arrived, and a growing number of disillusioned Republicans want to reverse a key policy — an income tax exemption for more than 330,000 farmers and business owners — to address the state's budget woes.
The governor has so far rejected the idea and blames sluggishness in the state's economy on national slumps in agriculture, energy production and aircraft manufacturing.
The state's tax collections for the current fiscal year have fallen $81 million, or 1.9 percent, short of expectations.
If the new revenue forecast is more pessimistic, the state also could have a projected deficit in its $16 billion budget for the next fiscal year, which begins July 1.