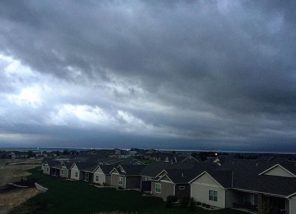 Several days of severe weather came to a head in Manhattan and surrounding areas on Tuesday.
KMAN's Cathy Dawes and Dave Lewis spoke with National Weather Service Meteorologist, Brian Barjenbruch from Topeka, along with Manhattan's Director of Public Works, Robert Ott and Riley County Emergency Preparedness Director, Pat Collins early Wednesday:
0427-Rob-Ott-interview.mp3
###
(report from Tuesday follows)
More severe and tornadic weather is expected in the KMAN listening area late this afternoon and into the evening.
The eastern half of the state is in a Tornado Watch until 9 p.m. and many organizations and entities have canceled activities this afternoon and this evening.
Be sure to keep the radio dial set to the Manhattan Broadcasting Company stations:
News Radio KMAN 93.3 FM in Manhattan, 93.7 FM in Wamego, also on 1350 AM.
Hot Country B104.7 FM
All the Hits Z96.3 FM
Real Rock 101.5 FM K-ROCK
Also follow us on our Facebook page and on Twitter: @1350kman
4/25/16:
Severe weather blew through  central and northeast Kansas on Sunday night. Torandoes, baseball size hail, heavy rainfall and high winds were just a part of the grand introduction to the 2016 storm season. Manhattan Broadcasting Company's staff was hard at work on Sunday night keeping listeners in the know on the impending severe weather. KMAN's Cathy Dawes brings us post-storm coverage from Riley county and National Weather Service officials.
More severe weather is expected to impact the area on Tuesday evening. For the most current severe weather coverage, stay tuned to NewsRadio KMAN and other MBC stations.
---
A report from the Associated Press on a tornado in Republic county to the north and west of Manhattan.
MUNDEN, Kan. (AP) – Storms with high winds and hail moved into central and northeast Kansas, prompting tornado warnings and injuring at least two people in Republic County.
Joe Herrick, a dispatcher for Republic County emergency communications, said Sunday night that authorities are surveying storm damage in Munden, where at least one trailer home was destroyed. Herrick says two people who were storm spotting were taken to a hospital with injuries. It wasn't immediately clear how badly they were hurt.
The National Weather Service plans to survey the area Monday.
The storms passed through Ellsworth, Lincoln and Saline counties, where ping pong- to baseball-sized hail and a funnel cloud were reported. Emergency managers tell the Salina Journal there was no serious damage.
More storms are expected in Kansas later this week.