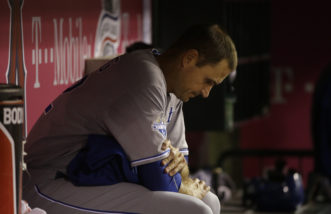 ANAHEIM, Calif. (AP) Mike Trout hit a tying two-run homer, Yunel Escobar put the Angels ahead with a solo shot in the sixth inning and Andrelton Simmons also went deep to power Los Angeles to a 4-2 victory over the Kansas City Royals on Wednesday night.
Escobar, the Angels' leadoff hitter, drove Chris Young's 3-1 pitch to center field for his third homer of the season leading off the sixth to put the Angels ahead 3-2. He had four hits in Tuesday night's 9-4 victory.
Simmons ended the scoring in the seventh with his first homer as an Angel. His other 31 came with the Atlanta Braves, who sent the two-time Gold Glove shortstop to the Angels in a trade for Erick Aybar in November.
Fernando Salas (1-1) got the victory in relief and Joe Smith got three outs for his second save in as many chances.