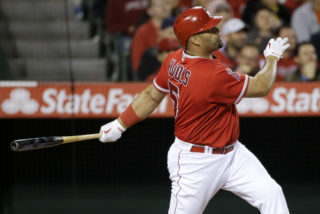 ANAHEIM, Calif. (AP) Albert Pujols hit two homers and Mike Trout added another, powering the Los Angeles Angels to a 6-1 victory over the Kansas City Royals on Monday night.
Garrett Richards (1-3) pitched three-hit ball into the seventh inning of his first win of the season, while the Angels' struggling offense awoke with a three-run first inning followed by homers from its two biggest stars.
Pujols connected on solo shots in the third and fifth innings against Ian Kennedy (2-2). The homers were the 564th and 565th of Pujols' career, moving him out of a tie with Reggie Jackson and into sole possession of 13th place on baseball's career list.
Trout added a solo shot in the seventh, his fourth homer of the season.
Salvador Perez drove in the Royals' only run.