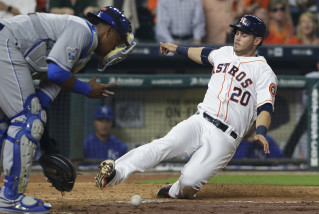 Houston was fired up during their home opener on Monday night and it showed both offensively and defensively on the scoreboard with an 8-2 win over the Royals.
The Astros jumped all over Royals starter Chris Young with three runs in the first highlighted by a two-run home run from Colby Rasmus. Astros would tack on three more runs in the fourth, one in the sixth and one in the eighth.
Collin McHugh pitched seven scoreless innings and picked up the win. Chris Young drops to 0-2 after giving up nine hits and six runs in less than five innings of work.
The Royals lone offense came off the bat off Kendrys Morales with a two run home run in the 8th.
Kansas City drops to 4-2 overall while the Astros improve to 3-4 overall. Kris Medlan will make his Royals debut on Tuesday night, Houston will counter with Mike Fiers.