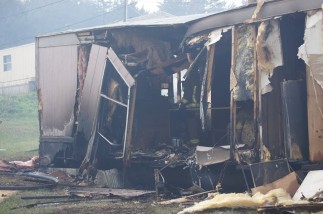 Destructive fires that saw the close of Tuttle Creek Boulevard Tuesday, were ignited by workers at the K-State Beef Stocker Unit.
As reported by the Manhattan Mercury, Riley County emergency management director Pat Collins revealed the news Wednesday afternoon – saying a "torch or a welder" ignited the blaze while a fence was being built.
As previously reported by KMAN, approximately 100-150 residents of a mobile homepark were assisted in leaving their homes as a result of the fire.
According to Collins, one home was lost as crews battled the flames.