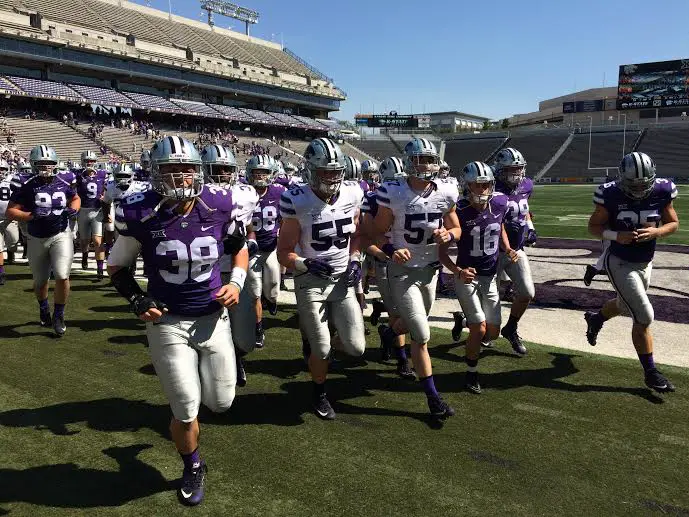 Last season, Kansas State's offense was limited by its lack of big-play ability. If Saturday's Purple-White Spring Game provided any indication of what's to come this fall, big plays will be in much greater supply.
A host of new faces in the K-State receiving corps stole the show in the Wildcats' spring finale, a 35-21 Purple victory at Bill Snyder Family Stadium.
"I feel like we have the capability (to make big plays), but we have to go out and prove that," K-State coach Bill Snyder said. "You can see the potential we have. But we have to make more plays on the ball."
Junior college transfer Byron Pringle, whose progress was a popular topic throughout spring practices, caught nine passes for 163 yards and a touchdown. For at least one day, he appeared to be the Wildcats' top receiving target as the 2016 season approaches.
"He'll make his way," Snyder said. "I want him to keep getting better like I want everyone else to keep getting better. He's young in our program."
Jesse Ertz took the first snaps with K-State's starting offense after missing almost all of last season with a knee injury. He completed 12 of 18 passes for 124 yards and a touchdown.
Joe Hubener had the best afternoon of the quarterbacks, however. He passed for 319 yards and two scores, while redshirt freshman Alex Delton added 139 yards through the air.
Additionally, in stark contrast to last year's spring game at Sporting Park in Kansas City, turnovers were not a problem.
"I thought the quarterbacks played pretty well for the most part," Snyder said. "As I've talked about, when one starts to inch ahead, the others catch up. You could see that today."
In addition to Pringle's breakout performance, Corey Sutton, Isaiah Zuber and Zach Reuter made an impact at the receiver position. The trio combined for 130 yards, two touchdowns and a handful of impressive catches in traffic.
On the defensive side, Topeka native Brogan Barry, who played for the White team, led all players with 11 tackles.
In the midst of a competitive battle for the starting running back job, Justin Silmon led the rushing attack. He totalled 88 yards and a pair of touchdowns on 14 carries.
Snyder has expressed concerns about his team's depth this spring, and reiterated that player development over the summer will be key as his team prepares for its season opener at Stanford on Sept. 2.
"I have some concerns there, and it's about execution as much as anything," he said.
Before the game, Ertz, Jordan Willis, Dante Barnett and Dalton Risner were named team captains for the 2016 season. Risner, along with true freshman quarterback Skylar Thompson, did not play in the game.