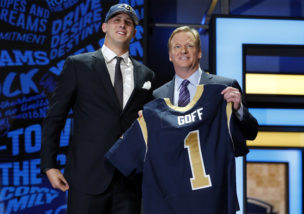 The first round of the 2016 NFL draft concluded on Thursday night in Chicago and no surprises with the first two picks. Cal QB Jared Goff went number one overall to the L.A. Rams and North Dakota State QB Carson Wentz went number two overall to the Philadelphia Eagles.
DE Joey Bosa from Ohio State went number three overall to the Chargers. Ohio State RB Ezekial Elliot went number four to Dallas and CB Jalen Ramsey out of Florida State went fifth overall to Jacksonville.
The Chiefs with the 28th overall pick in the first round selected nobody. Kansas City traded the 28th overall selection to San Francisco for their 2nd, 4th and 6th round picks which equate to overall picks 37, 109 and 178 respectively. The 49ers used that pick on Guard Joshua Garnett from Stanford.
Ohio State landed three picks in the top ten and four picks in the top 16. Rounds 2-3 take place Friday night with rounds 4-7 concluding the draft on Saturday.