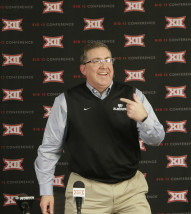 Kirk Schulz has been confirmed as the 11th president of Washington State University and will receive a five-year contract with a base salary of $625,000 per year, according a report from the Associated Press released Friday afternoon.
The WSU Board of Regents made those decisions at a meeting on Friday.
Schulz's salary for the 2015-16 school year at Kansas State University was $476,000. The previous Washington State University president, Elson Floyd, made $725,000.
The regents also decided that Schulz will receive an additional retention incentive of $25,000 per year.
As KMAN first reported, Schulz was chosen last month to replace Floyd, who died of complications from cancer last year.
Schulz will take over as president on June 13.
The contract also stipulates that Schulz and his family will be provided the use of a house in Pullman and a condominium in the Seattle area.
Schulz's contract also includes an appointment to the WSU faculty as an engineering professor.