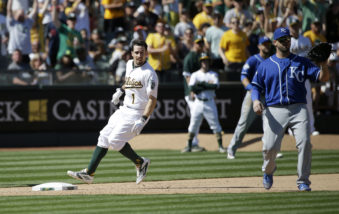 OAKLAND, Calif. — Billy Burns' speed, along with a little luck, helped Oakland win its first home series.
Josh Reddick's sacrifice fly off Joakim Soria broke an eighth-inning tie and lifted the Oakland Athletics over the Kansas City Royals 3-2 Sunday.
Soria (1-1) relieved to start the eighth, Burns tripled into the right-field corner and Reddick flied to center with one out. Burns came across the plate standing up, easily beating Lorenzo Cain's throw.
"He's got some speed. That kid's a nice player. He runs hard," Royals manager Ned Yost said. "We normally play him straight up. We were shading the line there because he very seldom hits balls down the line, but he just hit one perfectly right down the line for a triple."
Burns said the ball was close to being caught by first baseman Eric Hosmer and was close to being foul.
"He was so close to snagging it," Burns said. "I think it just skipped off the edge of his glove and skipped over the corner of the base."
John Axford (2-0) induced three consecutive groundouts in the eighth, and Ryan Madson pitched a one-hit ninth for his fourth save in as many chances, retiring Raymond Fuentes on a game-ending lineout to first with a runner on second.
"I was working on keeping the ball down there but got it higher than I wanted," Madson said. "Luckily the speed was different enough that he couldn't get it to the outfield."
Soria lost for the first time since July 11.
Royals starter Kris Medlen allowed two runs — one earned — two hits and four walks in 6 1/3 innings. He left after Chris Coughlan's seventh-inning double, and pinch-hitter Jed Lowrie tied the score 2-2 with a single off Kelvin Herrera.
"Medlen pitched great," Yost said. "He managed his pitch count really, really well. In the seventh inning, you got Kel down there, it's hard not to bring him into the ballgame.
A's starter Chris Bassitt gave up two runs and five hits in seven innings.
Kansas City built a 2-0 lead on Alex Gordon's RBI single in the second and Mike Moustakas' homer in the third.
Coco Crisp scored in the fourth on Salvador Perez's passed ball as Coghlan struck out.