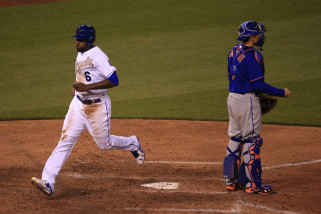 The Kansas City Royals raised their World Series banner Sunday night at Kauffman Stadium and officially began the title defense with a 4-3 win over the New York Mets.
Eric Hosmer singled in the first run of the season in the first. Kendrys Morales would help plate the second run of the season with a sacrifice fly in the fourth.
Alex Gordon and Omar Infante provided RBI singles in the sixth to give the Royals a 4-0 advantage.
The Mets wouldn't go away as they would tag three runs against Joakim Soria in the eighth. Royals closer Wade Davis picked up the save, striking out Yoenis Cespedes to end the game.
Edinson Volquez (W 1-0) 6.0 IP, 2 H, 0 R, 5 SO
Matt Harvey (L 0-1) 5.2 IP, 8 H, 4 R, 3 ER
Kansas City (1-0) will have Monday off before playing the Mets (0-1) again on Tuesday afternoon.