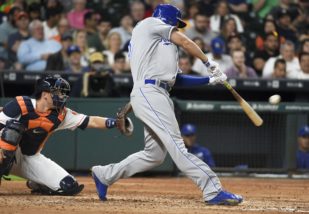 HOUSTON (AP) — Ian Kennedy was dominant in his first start with Kansas City.
He was even more impressive in his second outing Thursday night.
Kennedy threw seven strong innings, Eric Hosmer hit a two-run double during a five-run sixth and the Kansas City Royals beat the Houston Astros 6-2.
Kennedy (2-0) started with five hitless innings and retired 14 straight before Carlos Gomez's leadoff single to center in the sixth. Kennedy struck out seven and allowed a run on two hits and two walks.
The right-hander signed a $70 million, five-year deal with Kansas City in January.
"I've been very impressed with him," Royals manager Ned Yost said. "It's kind of what we expected. He is a guy that competes well and pitches down in the zone."
Through two starts, Kennedy has allowed one run in 13 2/3 innings.
"He was every bit as good (as last time out)," Yost said. "He commanded everything really, really well. He managed his pitch count well and did a great job."
Kennedy credited his defense, which tracked down several deep drives on the warning track to center among other plays.
Mike Moustakas hit a solo homer in the first and went 2 for 4 with a walk.
Hosmer, Lorenzo Cain, Alex Gordon and Omar Infante each had two hits, and the Royals set a season high with 13 of them. The defending World Series champs are 7-2 after winning the final three games of this four-game set.
The Royals' offense came alive with two outs in the sixth. Hosmer hit his double, Kendrys Morales and Gordon followed with RBI doubles and then Salvador Perez hit an RBI single to make it 6-0.
"That's what our offense does," Hosmer said. "We kind of hang around there and take advantage of one big inning."
Jose Altuve had two hits for Houston, including a solo home run to lead off the seventh. Carlos Correa had an RBI single in the ninth.
"He gave us a lot of trouble," Houston manager A.J. Hinch said of Kennedy. "He was pretty bullish with his fastball and then he was landing his breaking ball in the strike zone which created a little bit of an in between approach for us."
After Houston put runners on first and second with one out in the ninth, Wade Davis induced a double play for his fourth save.
Doug Fister (1-1) allowed six runs on nine hits with two strikeouts in 5 2/3 innings. He had settled down after the first inning to retire 13 straight before the sixth inning.
"I'm just not getting my job done there," Fister said. "My job is to get the guy out at the plate no matter what happens. I've got to execute and I didn't execute."
Houston is 3-7 and in its second three-game losing streak already this season.