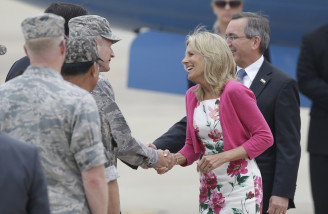 Dr. Jill Biden, wife of U.S. Vice President Joe Biden and Second Lady of the United States, is in Fort Riley Tuesday and will be available to media Wednesday, according to a press release from post.
As a part of the Month of the Military Child and as part of her Joining Forces initiative, Biden, a lifelong educator and military mom, will participate in several events in support of military children's education.
Biden is visiting Fort Riley to meet with active duty service members, military spouses and military-connected students and their teachers. During the visit, Biden will highlight the educational partnership between Fort Riley and Kansas State University as part of Operation Educate the Educators—an effort she launched through her Joining Forces initiative to train teachers to recognize the unique needs of military-connected students in their classrooms.