U.S. Senator Jerry Moran (R-Kan.), member of the Senate Defense Appropriations Subcommittee, visited the new Irwin Army Community Hospital on Fort Riley Friday to learn about the continued progress made toward the hospital's opening to serve the Fort Riley community.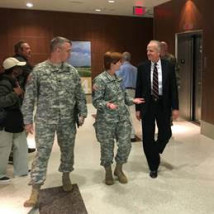 "The new Irwin hospital will serve thousands of men, women and children who call the Big Red One home, and they deserve the best care possible as soon as possible," Sen. Moran said. "I was assured during my visit today that in the next two weeks the Army will announce an official opening date. It was good to see the progress made thus far, especially that all structural safety issues have been addressed. The hospital represents a significant asset to the base and further demonstrates the value of Fort Riley to the U.S. Army."
During his visit, Sen. Moran heard about the work that remains prior to Irwin's official opening such as commissioning, safety walk-throughs and equipment movement. The new facility was initially slated to open in 2012, but has experienced both legal setbacks and construction delays. The hospital will replace the current Irwin Hospital facility, which is the oldest Army hospital in the nation.
Sen. Moran was joined by Big Red One Commanding General Major General Wayne Grigsby, Deputy Commanding General Brigadier General Patrick Frank, Garrison Commander Colonel Andrew Cole, Hospital Commander Colonel Risa Ware, Lieutenant Colonel Robert Schultz and U.S. Army Corps of Engineers Lieutenant Colonel Michael Sexton.