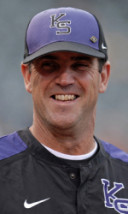 After losing the first two games of the weekend set in Lubbock, K-State head coach Brad Hill reminded his team that there was still something to accomplish against the Red Raiders…try to avoid the sweep.
The Wildcats nearly did just that.
With Clayton Dalrymple on third, representing the tying run, Jake Scudder grounded out to second to end the game, and the Wildcats come up just 90 feet short of salvaging the set, falling to Texas Tech 6-5 on Sunday afternoon.
The series' finale began hauntingly similar to the doubleheader on Saturday.  The Red Raiders' high-octane offense staked Tech starter Ty Harpenau to a 4-0 lead after just three innings.  Harpenau helped his own cause with a nifty snag of a rocket back up the middle, turning what might have been an RBI single into an inning-ending double play.
Cory Raley and Eric Gutierrez notched back-to-back doubles, and Gutierrez later scored on a wild pitch.  Orlando Garcia then laced a double down the left field line driving in two more runs.
After K-State got on the board in the top of the 4th on an RBI groundout from Tyler Moore, Tech re-established the four-run cushion when Stephen Smith smacked the first of his two solo home runs; a no-doubter to left center field.
K-State finally got on track in the 5th.  Josh Ethier tripled to right, and after another run scored on a groundout, Moore delivered a double to left, driving in Jake Wodtke and Dalrymple to make it 5-4.
Smith connected on his second long ball in the bottom of the sixth to extend the Red Raiders' lead to two, and the game stayed tight right up into the 9th.  With the Wildcats' facing a 3:30pm deadline to make their commercial flight home, Ethier and Dalrymple started the frame with singles.  Wodtke laid down a perfect bunt to move them into scoring position.  Ethier came home when Josh Rolette grounded out, but the hot-hitting Scudder was unable to tie the game.
K-State is now 12-17 on the year, and is still looking for their first Big 12 win.  The Wildcats travel out of conference on Tuesday night to face Nebraska in Lincoln.  First pitch is set for 6:30pm.