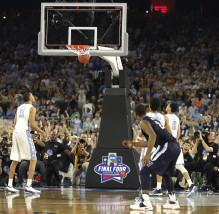 HOUSTON (AP) Ryan Arcidiacono grew up outside of Philadelphia as a Villanova fan, and then played more games than any else ever has for the Wildcats.
In his last game, with his last pass, he became a national champion and a Final Four MVP.
The unselfish point guard was dribbling toward the basket with clock winding down and defenders closing in when he heard Kris Jenkins screaming toward him from behind. Arcidiacono then passed the ball to his open teammate, whose 3-pointer beat the buzzer for a 77-74 victory over North Carolina on Monday night.
The Pennsylvania kid born nine years after Villanova's only other title in 1985 scored 16 points in the championship game. He had 15 points in the Wildcats' record semifinal victory over Oklahoma.