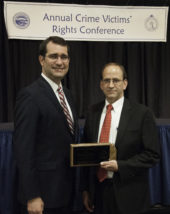 Riley County Attorney Barry Wilkerson was recognized for his service to crime victims during this week's Crime Victim's Rights Conference in Topeka, according to a press release from the Kansas Attorney General's office.
Wilkerson was presented the Outstanding Prosecutor Victim Service Award by Kansas Attorney General Derek Schmidt during an awards ceremony Thursday morning. Wilkerson was nominated for the award by Judy Davis, executive director of The Crisis Center, Inc., of Manhattan.
"Barry is not afraid to take on very difficult cases, including cases of non-stranger sexual assault," Davis said in the release.
The Kansas Crime Victims Rights Conference was hosted by Attorney General Schmidt and Gov. Sam Brownback. The conference featured a number of speakers and trainers focused on raising awareness of emerging crimes and offering new approaches to respond to enduring crimes, such as child abuse, domestic violence and human trafficking.