Riley County commissioners were updated Thursday with the latest revenue numbers from the Register of Deeds office and the news wasn't bright.
"Good morning commissioners," Riley County Register of Deeds Debbie Regester opened, "Don't have very good news. Our revenue is down, two-fold."
Regester said the numbers are the result of a combination of the continuing phase-out of the mortgage registration fee and decreasing mortgages.
"We're losing money on that, as well as recordings and mortgages are down," she added.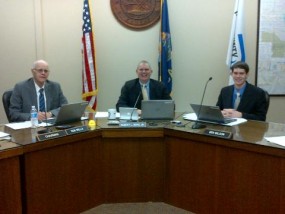 The state began the five-year phase-out of the mortgage registration fee after Gov. Sam Brownback signed the legislation in 2014 — much to the disappointment of the Riley County Commission and others across Kansas. The repeal of the fee was lobbied heavily by the Kansas Bankers Association and the Kansas Association of Realtors. Previously the fee, which was pennies on the dollar over the life of the mortgage, generated $1 million in annual revenue for Riley County.
This year, the county is expecting half that.
At this time in 2015 the county had $328,792 from the fee. This year it has just generated $178,169.
Proponents of the fee's repeal — they referred to it as a tax — said increases in recording fees would make up for the lost revenue from the fee. While the deed's office shows a slight increase in those recording fees compared to last year — up $88,640 from $61,315 — projections still show the county taking in $550,000 this year from the decreased registration fee and $100,000 from recording fees.
That's still well short of the $1 million the county used to expect since the registration fee was first implemented in Kansas in the 1920s.