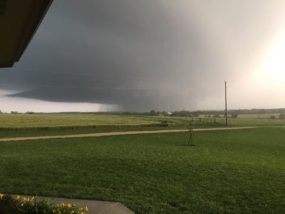 CHAPMAN — Cleanup is expected to begin after a tornado that officials say stayed on the ground for about 90 minutes damaged or destroyed about 20 homes in rural northern Kansas.
Dickinson County fire district one chief Paul Froelich told The Associated Press early Thursday that crews have completed secondary searches of the damaged properties. He says no injuries or fatalities have been reported from the tornado that swept through a 23-mile stretch of rural Dickinson County late Wednesday.
He says residents had plenty of warning ahead of the storm, which likely attributed to the lack of injuries.
He said debris management and disposal began Thursday morning. In addition to cleaning up the damaged homes, crews also had to remove scores of trees blocking rural roadways.
1:25 a.m.
Officials say a large tornado damaged or destroyed about 20 homes in a rural area of northern Kansas and came within a mile of hitting a small town.
There were no immediate reports of injuries or fatalities from the tornado that the National Weather Service said was on the ground for about an hour and a half Wednesday night.
Weather service meteorologist Chad Omitt says the heart of the twister at one point was just about a mile south of Chapman, a town of about 1,400 that was devastated by a deadly tornado in 2008 but spared on Wednesday.
Emergency crews were still assessing damage in Dickinson County and making sure everyone was OK early Thursday.
Jane Blocher of the American Red Cross spoke with KMAN Thursday about the damage and how to help. Her interview can be listened to here:
Jane-Blocher-Red-Cross.mp3
KMAN's Cathy Dawes spoke with Chapman resident Jennifer Hasenbank, who had to seek shelter Wednesday night: