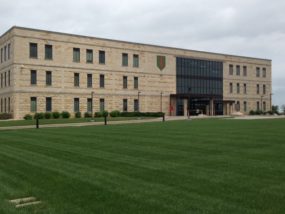 (Article written by Margaret Ziffer, Fort Riley Public Affairs)
Fort Riley's Directorate of Family and Morale, Welfare and Recreation has
been named by the National Association of Parks and Recreation as a 2016
Gold Medal Award finalist in the Armed Forces Recreation category.
Fort Riley and the other finalists will compete for Grand Plaque Award
honors this summer; winners will be announced live during the NRPA Annual
Conference in St. Louis, Missouri, Oct. 6-7.
This announcement comes along with several other 2015 achievements listed by Fort Riley officials.
Competing against all other installations Army-wide, Fort Riley's DFMWR won
all categories in which they submitted in 2015, taking five of 12 total
awards, securing $10,000 in prize money to put toward programs that benefit
soldiers and their families.
The team won the Best Recreation Division, Best Better Opportunities for
Single Soldiers Program and Best Physical Fitness Program awards.
Additionally, Fort Riley employees won the only two individual award
categories – Employee of the Year and Career Employee.
Matt Enoch, DFMWR Community Program coordinator, was selected as employee of
the year and Scott Scherberger, DFMWR Community Recreation Division chief,
won the career employee award.
"I've been doing Army awards for a very long time and I've never seen a
garrison sweep so many awards in the same year," said David Roudybush, Fort
Riley DFMWR director. "Knowing that the Army is recognizing not just one,
but three of our programs and two of our key leaders really speaks volumes."
The Excellence in Army Recreation Awards weren't DFMWR's only big win for
2015. Fort Riley's Recreation Division recently earned national recognition
through the Commission for Accreditation of Park and Recreation Agencies,
making it one of only six installations in the Department of Defense with
this certification.
Earning CAPRA accreditation is no walk in the park, Roudybush said. "It's a
huge, painstaking, extremely hard process; it takes a lot of time to put
that package together. To have that validation – with these awards in the
same year – really shows how strong this program is and what it is that the
community has here."
The key to DFMWR's success, Roudybush added, is passion. "Passion for what
they do and what their jobs mean to the community. You can see it,
especially in Scott and Matt. Talking to them and seeing them interact – you
can tell that they live this; it's what they love to do. That's where it all
starts."
The Career Employee Award requires the recipient to have a minimum of 15
years working in DFMWR. Scherberger's supervisors and subordinates believed
he was the perfect nominee with his 16 years with DFMWR.
"The Career Employee Award looks at all recreation leaders across the Army –
not just this year, but across a person's whole career and what impact
they've had to the Army and the nation," Roudybush said. "This award is big;
it put Scott up against the 'best of the best' in the Army."
Enoch said Scherberger was a "no-brainer" for selection. "He's had a very
distinguished career of moving Army recreation forward. He's found himself
in a circle of professionals that are on the leading edge of what we're
trying to do to make Army recreation better. I think the real impact though
is the benefit of quality programs that soldiers and their families enjoy
here at Fort Riley."
Enoch has been a DFMWR employee for 10 years and has his own list of
accomplishments, including leading Fort Riley's CAPRA accreditation process.
"That, in itself, is a huge accomplishment, not just for the Army, but for
any parks and rec municipality out there," Scherberger said. "It's difficult
to achieve on its own and we achieved it without missing a beat. That's
because of Matt's attention to detail, his working with other agencies – not
only within MWR, but across the garrison."
Scherberger and Enoch don't take all the credit for DFMWR's success. They
point to a combination of factors like Fort Riley's investment in
infrastructure, improved facilities, better equipment, a heavy emphasis on
professionalism, and better hiring practices.
"We've delivered a lot of great programs over the past year because we've
been able to think outside the box," Scherberger said. "We've also got some
really great young professionals that have gone to school to get degrees in
recreation . so they understand it, they get it. And that's just a small
piece of it. Changing focus, our strategies, what the public wants, doing a
lot of family programs. We put a lot of time, effort and energy into it and
it has paid off, again, especially for our service members and their
families."
Enoch added that the DFMWR support system is another key to success.
"Everybody is just a product of their environment," he said. "I'm from this
region, I went to school at Riley County and Kansas State University. I got
my first job here at Fort Riley and have had some of the best mentors in
Army MWR. When you learn things and have people support you as much as I
have, you can't be anything but successful. That's the thing that I'm most
proud of, that this award is a reflection of where I'm from, this region,
the people that I grew up around and have worked with, my team members who
support me, and this organization."
Even taking those things into account, it's clear that passion was indeed a
driving factor for this year's individual award winners. "My father was in
the military for 23 years, so I grew up on Army posts; the lifestyle is
ingrained in me," Scherberger said. "I love being able to take care of
soldiers and families. Soldiers who deploy for a year at a time have tough
jobs. but the families they leave behind have tougher jobs. So it's up to us
to give them a break and support-whether it's through a carnival or a
concert, whatever – so they're not thinking about what could be going on in
theater. Lifting family spirits is what makes this a very rewarding career
field because you get to see the results of what you're doing."
"It's the only job I've ever had – some kind of recreation management. I've
never wanted to do anything else. I have a deep admiration for the
profession and what it entails, and mostly for what it does for people. You
can't put a price tag on a recreation experience. And the harder you work,
the more impact you can have on people and the benefits they get out of
recreation experiences. And to be able to do it for this community makes it
that much more special. I can't see myself doing anything else," Enoch said.
"I've been saying that we have the best team in the Army for a long time,"
Scherberger said. "Recognition at this level just validates that."
Roudybush said the Fort Riley DFMWR has already set their sights on new
goals for upcoming years.
"It's about pushing to that next step," he said. "What we provide to the
community has to continue to change, because the needs of the community
change."
With the 100th anniversary of the 1st Infantry Division right around the
corner, Roudybush anticipates Fort Riley will continue its trend of
competitiveness in future years.
"We won it this year just doing what we do day-in and day-out," he said.
"Now what can we do for a very special year?"