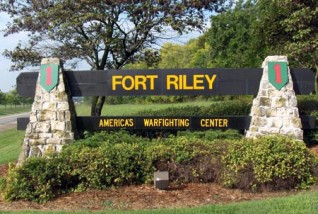 The 1st Infantry Division will honor Brig. Gen. John S. Kolasheski, the division's outgoing deputy commanding general for maneuver, in a Victory with Honors Ceremony at 10 a.m. May 12 at the "Big Red One" headquarters building.
Kolasheski assumed duties as the deputy commanding general in June, 2015. He previously served as deputy chief of staff, strategic communications, for Resolute Support/Operation Freedom's Sentinel and the International Security Assistance Force (ISAF)/Operation Enduring Freedom with duty in Kabul, Afghanistan from 2014 to 2015.
The brigadier general will next serve as the commandant of the U.S. Army Armor School at Fort Benning, Georgia. Taking his place at the 1st Inf. Div. is Brig. Gen. William A. Turner, commandant of the United States Army Field Artillery School at the Fires Center of Excellence and Fort Sill.
The Victory with Honors ceremony will include remarks by Kolasheski and Maj. Gen. Wayne W. Grigsby Jr., 1st Inf. Div. and Fort Riley commanding general.