A Manhattan man charged with first degree murder and child abuse was granted a continuation for his status hearing Tuesday afternoon.
Andrew Gibson, 25, appeared in the Riley County District Courthouse via webcam from the Riley County jail. His defense attorney told the judge he needed more time to study the case and acquire the proper paperwork.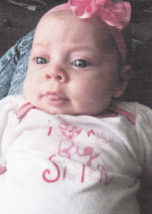 Gibson's status hearing was moved to June 28 at 1 p.m.
On May 11 KMAN obtained new details on the case.
According to an affidavit of Gibson's arrest warrant, three-month-old Serenity Reich was not breathing when police arrived at Gibson's Stone Drive residence in Manhattan on May 5.
She was transported to Via Christi Medical Center where she was pronounced dead from her injuries.
An autopsy completed on May 7 revealed that small marks on the scalp – possibly caused by fingers, contusions to the eyelids, abrasions to both cheeks, the left side of the forehead, and a contusion to her nose were among injuries the infant suffered.
A medical examiner in Kansas City believes Reich could have died from asphyxiation, as a result of her head being forcibly pressed down upon.