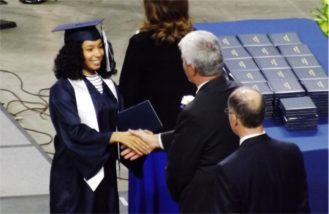 Hip-hop artist Kanye West was brought up not once, but twice, and the day wouldn't be without a large public selfie.
The Class of 2016 certainly did it the way only the Class of 2016 could.
Over 340 seniors from Manhattan High School were honored Sunday afternoon in Bramlage Coliseum and received their diplomas to the cheers from family, friends and faculty.
MHS Principal Greg Hoyt congratulated the Class of 2016 for their academic and athletic achievements, but also their tenacity.
"This class has earned approximately $1.2 million in scholarship money," he said. "But more impressive to me has been the leadership presence they have throughout the entire roster."
Hoyt also reminded graduates of the challenges that await them — perhaps drawing from the political climate in Kansas and in the country as a presidential election looms.
"This is a very difficult time in our state," he said. "It's a difficult time in our nation. And graduates, we don't need more walls, we need more bridges. So I encourage you to be bridge builders."
Hoyt's comments were followed with applause from both the students and those in attendance.
Graduates Michael Everett and Nathan McClendon were the speakers for commencement.
Both speeches couldn't help but reference Kanye West, but both spoke of commonality and togetherness.
"The great Kanye West once said," said Everett, preceding a brief pause and some laughter from the crowd. "If you get an opportunity to play this game of life, you need to appreciate every moment. If you go through every day of your life without stopping and smelling the roses, have you even lived?"
McClendon, who will be attending the University of Chicago to study philosophy, not surprisingly also had a very philosophical address.
McClendon denounced the over-importance of the individual and cautioned his fellow graduates on the dangers of labels and divisiveness.
"This is why the richest country in human history can still have massive inequality, homelessness and starvation," he said. "It's why more people care about the dresses on the red carpet, than the genocide in Rwanda."
The full audio from both MClendon and Everett can be heard here: