TOPEKA — An international rating agency has revised its credit outlook for Kansas to negative from stable because of its ongoing budget problems.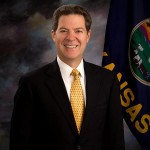 Tuesday's announcement from Moody's Investors Service came a day after lawmakers approved a plan leaving most of the work of balancing the budget through June 2017 to Gov. Sam Brownback.
Even as Moody's changed its outlook, it reaffirmed its Aa2 rating for Kansas for issuing bonds.
Its report cited the state's problems in balancing its budget since lawmakers slashed personal income taxes in 2012 and 2013 at Brownback's urging to help stimulate the economy.
Standard and Poor's Rating Services last week put Kansas on a "credit watch."
Brownback told reporters Tuesday that Kansas faces financial strains because of slumps in agriculture and energy production, the Lawrence Journal-World reported.