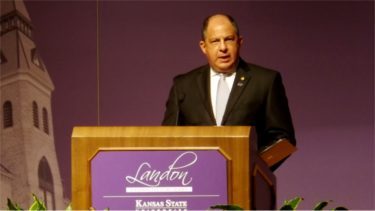 For the second time in the history of K-State's Landon Lecture Series, the President of Costa Rica was its speaker Thursday night.
President Oscar Arias Sanchez spoke in Manhattan in 1987.
President Luis Guillermo Solís acknowledged that fact early in his speech and thanked the university for the opportunity.
"It is indeed a great pleasure for me, but it also a true honor for the Costa Rican president to be here," he said. "Having been preceded by 171 orators is something I do treasure very much."
President Solis spoke on many topics ranging from international security, immigration, migration and the difficulty of borders in an increasingly globalized society.
He also brought up the "Leviathan," a term which origins come from various scriptural accounts depicting a sea monster — Leviathan — defeated by Yahweh. It's also a term used to describe political states.
It should also be noted Costa Rica abolished its military in 1948 and must contribute 8 percent of its GDP to education annually according to its constitution.
"In terms of security, the old notion of the Leviathan — demanding total power to ensure total security — has flunked," he said. "It's not applicable anymore."
While Solis said his country still struggles with organized crime and the drug trade — he downplayed marijuana and said cocaine is the top concern — his focus stayed largely on evolving world relations.
"So one of the principal characteristics that globalization has brought about in terms of its relations with the state is that the fact that now the peoples of the world — not only the states — are present in decision making," he said.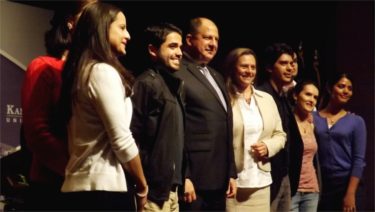 After his speech Solis opened the hall to questions from those in attendance.
One woman — a KSU student from Costa Rica — noted he won his office as a third-party candidate. Solis described the success and difficulties of such an accomplishment.
"So I'm the first non-bipartisan candidate to win an election in Costa Rica in 60 years," he said.
But after a brief pause, he couldn't help but celebrate the fact.
"Oh, how sweet it sounds," he admitted with laughter to the applause of the crowd.
Solís was an associate professor of history at the University of Costa Rica from 1981-1987, serving as a Fulbright scholar at the University of Michigan from 1983-1985. He also worked at Florida Atlantic University where he was coordinator of the Center for the Administration Justice and a researcher for the Latin American and Caribbean Center.
He studied history at the University of Costa Rica and earned a master's degree in Latin American studies from Tulane University. Solís has published more than 10 books and written many articles for newspapers and magazines.