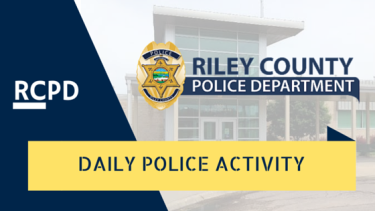 Police in Riley County arrested Tyler Jensen, 21, of Manhattan while in the 100 block of N. 4th Street in Manhattan on May 11, 2016 at approximately 8:50 AM.
This arrest stemmed from a warrant for probation violation with an original offense of residential burglary and theft. He was given a bond of $5,000.00 and at the time of this report was confined at the Riley County Jail.
---
The Riley County Police Department is investigating a report of burglary to a vehicle in the 1400 block of Pottawatomie Ave. in Manhattan which occurred on May 8, 2016 between 6:30 PM and 8:00 PM.
Joshua Langford, 21, of Manhattan was listed as the victim when his vehicle was entered and several items were removed. These items included a back pack, calculator, HP laptop, and an external hard drive totaling an estimated loss of approximately $570.00.
Currently suspect(s) are unknown and police ask that anyone with information contact the Riley County Police Department or the Manhattan Riley County Crime Stoppers.