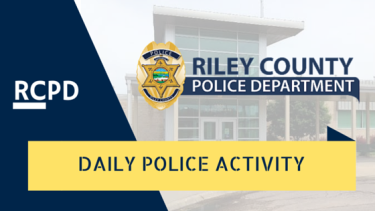 He was arrested for a DUI and Criminal Damage to property Wednesday evening, but shortly after posting bail a Manhattan man became the victim of a vehicle burglary.
22-year-old Trace Hart says his vehicle was entered while parked at 3313 Valleydale Drive in Manhattan – resulting in the theft of a handgun.
Prior to the incident, Hart was taken into custody and held on an $8,000.00 bond before being released.
---
On May 5, 2016 at approximately 9:00AM Nicholas Horvath (20) of 2215 College Avenue Apt C209 reported an aggravated burglary to his residence. Horvath reported that while he was asleep the night prior an individual entered his residence and stole his Apple computer.
---
On May 4, 2016 Rachel Gordon (24) of 3999 Smithhills Lane Manhattan, KS reported a vehicle burglary that had occurred the day prior in the Wal-Mart parking lot. The suspect reportedly stole a KSU parking permit from inside of her vehicle.