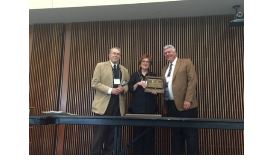 Heartland Mediators Association honored Judge Meryl Wilson with the President's Award recently at their annual conference in Kansas City.  The President's Award honors members of the public, media, or government who have contributed significantly this past year in increasing public awareness of mediation.
Judge Meryl Wilson serves as the Chief Judge in Riley County/21st Judicial District of Kansas. He was recognized because of his strong support of a pilot mediation program sponsored by the State's Advisory Council on Dispute Resolution that eventually resulted in the Riley/Geary Domestic Mediation program housed at Kansas State University in the College of Human Ecology.
With Judge Wilson's support, this program has been recognized for being able to provide affordable and quality alternative dispute resolution services to individuals in the 21st and 8th judicial districts, as well as train future mediators with no-cost professional mentoring. Conflict resolution students at K-State are receiving real-life case work in a supportive, professional work setting.
When asked about his support of mediation services, Judge Wilson had this to say, "After 18 years of hearing contested custody cases, I came to the conclusion there had to be a better way to resolve the conflict between parents. Custody issues will arise years after the final divorce hearing. I have found that mediation is a first step towards developing a respectful relationship between the parents. This allows for the parents to resolve future issues in a positive way."