More subdivision bid openings and road updates at Monday's Pottawatomie County Commission meeting. Construction projects continue in Pottawatomie County on two major areas–including highway 24 and Excel as well as Highway 24 and Flush Road.
Public Works Director Peter Clark updated commissioners on the highway 24/Excel Road Project saying the re-enforced concrete box on the north side of Highway 24 is built and back-filling is being done, with a grade being established. Clark adds the large ditch associated with the project  is also closer to being completed.
The Flush Road project also is progressing, with one westbound lane closed at this time. Clark indicates the public will be notified in a very direct way with the deployment of message boards, probably in another couple of weeks.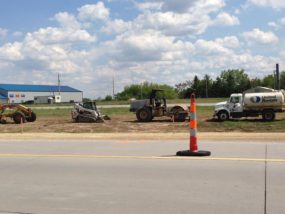 The Public Works Director also reported on a meeting last Wednesday regarding stormwater management, with a stake-holder meeting. Clark was pleased with the turnout of 21 consultants, developers, builders, and governmental officials, adding there was a very positive vibe from the group that was there.
Monday was also a day for more bid openings by the public works director, for the subdivisions of Falling Leaf Unit II and Whispering Meadows IV. Clark's staff will consider the bids, with recommendations for commissioners next week.