The Royals offense surged in game one against the Red Sox in Kansas City as Paulo Orlando led the charge in an 8-4 victory on Tuesday night.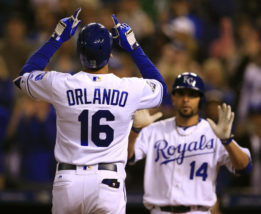 Orlando finished the game with three hits, a home run, a triple and four RBI's.
Yordano Ventura picked up the win after allowing four runs in over five innings of work.
Kansas City is back to .500 at 19-19 overall, they're four and a half games back of the White Sox for first place in the AL Central.
The Royals and Red Sox will play a day/night doubleheader on Wednesday. Game one at 1:15 with Ian Kennedy on the mound for the Royals. 7:15 first pitch for the night cap with Edinson Volquez taking on David Price.