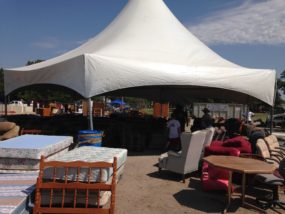 As the spring semester nears its end at K-State, students will soon depart Manhattan leaving behind a trail of furniture.
Friday marks the city of Manhattan's first Spring Furniture Amnesty Day.
Beginning at 10:00 a.m., those in the community wanting to unload unwanted furniture can drop it off at the Baker Field parking lot in City Park.
If you're hoping to take something home, you'll have your chance to make a selection starting at 11:00 a.m.
The event runs until 4:00 p.m.
The city has issued a set of rules that includes acceptable and unacceptable furniture items.
Acceptable Furniture: 
Sofas/couches
Recliners Chairs
Desks
Kitchen tables
Mattresses
Lamps
Coffee tables
Entertainment centers
End tables
Dressers
Headboards
Unacceptable Furniture and Appliances: 
Dishwashers
Washers/dryers
Refrigerators
Pianos
Televisions/monitors
Computers
Grills
A Manhattan tradition, Summer Furniture Amnesty Day will return to the Little Apple on July 29.