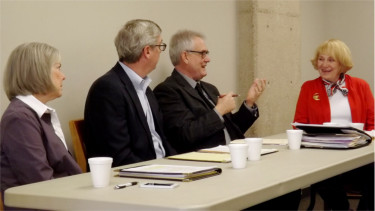 Tuesday, just under 24 hours before legislators meet in Topeka for what is normally the ceremonious last day of the 2015-16 session, State Rep. Tom Phillips of Manhattan told KMAN their work is not even close to being over.
"It's like some folks want to play chicken barreling down the highway 100 miles per hour and I just think that's foolish, particularly when we're dealing with the education of our youth," Phillips, a Republican, told KMAN. "That's something we should never play with. That's just one of our core responsibilities, to make sure our school systems are open and teachers are doing what they do best, which is teaching our children."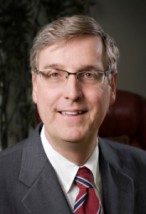 At the same time, a Republican leader in the Kansas Senate says talk among legislators about defying a recent state Supreme Court ruling on education funding is serious, according to a report from the Associated Press Tuesday.
Senate Majority Leader Terry Bruce told the AP that the justices have "gone out of their way to pick a fight."
The court last week rejected changes made by legislators earlier this year and said the school finance system remains unfair to poor districts. The justices gave lawmakers until June 30 to fix the remaining problems or face having schools remain closed.
Bruce said some lawmakers want to test whether the court is serious.
GOP leaders didn't plan to have lawmakers consider additional fixes Wednesday before a ceremony adjourning their annual session.
Gov. Sam Brownback would have to call a special session for lawmakers to act further.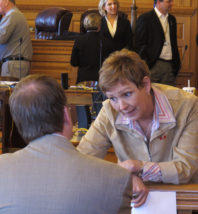 Sen. Tom Hawk of Manhattan, a Democrat, said he isn't surprised the state is in the situation it's in.
"We've been arguing now, for almost four years, that this legislature was not complying with its constitutional duty to equitable and adequately fund schools," Hawk said. "So, again, it's not a surprise that the court ruled as they did."
Rep. Sydney Carlin — also of Manhattan and also a Democrat — had similar thoughts.
"I'm not surprised," she said. "Because for the last five years, six years, we've known what we've been doing is damaging to schools. There have been lies told about the formula and the amount of money we are sending to schools and people have been so misled.
"And I spoke to someone who is on a school board in another county and they said, 'Well, what's the court doing to us?'
"The court is not doing anything to us. We wrote them a law that was not legal and they just said so."
Phillips shares his colleague's worries.
"There will be some folks that are looking to pick a fight with the (Kansas) Supreme Court and will say we have no business complying with their ruling and we need to give no more money to public education and let's just have a showdown with the Supreme Court," he said. "I don't agree with that."
Like Hawk and Carlin, Phillips wasn't blindsided by the court's ruling.
"I would say I'm not surprised, I'm just disappointed we've put ourselves in this position," he said. "In many respects it goes back to the tax cuts we approved in 2012, which, we just reduced our revenue stream and forced us to put ourselves in a position of cuts and not properly funding education — not only public education but also higher education now — so no, it doesn't come as a total surprise."
When it came to the possibility of schools not opening as scheduled this fall, it wasn't a possibility Phillips liked to explore.
"I sure hope that the leadership is not thinking about testing our ability to shutdown the school system," he said. "Oh my God… I don't even like to think about it. But it is a possibility."
The full interviews with Hawk, Carlin and Phillips can be heard here: