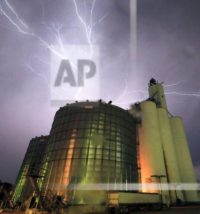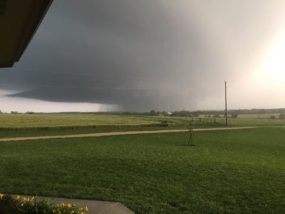 DODGE CITY, Kan. (AP) – The National Weather Service says a large tornado in Kansas that was on the ground for nearly an hour and a half missed a small town by about a mile.
Meteorologist Chad Omitt says the tornado formed just after 7 p.m. near the Ottawa County community of Niles. He says it stayed on the ground continuously as it moved into Dickinson County.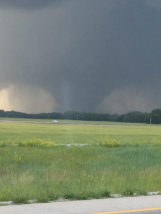 Omitt says it looks like "the heart" of the tornado was just about a mile south of the town of Chapman at one point. He says estimates are that the twister was a quarter- to a half-mile wide at times.
Radar suggests the tornado dissipated around 8:35 p.m.
Authorities are assessing damage, but there were no immediate reports of injuries.
Weather service crews will survey the area Thursday.
###
Wednesday night:
The Kansas Division of Emergency Management has activated the State Emergency Operations Center in Topeka in response to tornadoes that touched down in North Central and Northeast Kansas. KDEM has received unconfirmed reports of damage throughout the warned area.
KDEM staff are gathering information on potential life-saving resource requests from the affected counties. KDEM has asked representatives from the Kansas Department of Transportation, Kansas Department of Health and Environment, Office of the State Fire Marshal and the Kansas Highway Patrol to staff SEOC operations. Additional personnel may be requested as needed.
###
DODGE CITY, Kan. (AP) – Authorities say at least two people were critically injured and rural homes were damaged in Kansas amid severe storms that swept across the Plains.
A statement early Wednesday from the Kansas Adjutant General's Office says the storms downed trees and power lines and damaged outbuildings and rural homes.
The statement says emergency management officials in Ford County reported two people were critically injured and taken to a hospital in Dodge City.
The National Weather Service will conduct damage surveys Wednesday.